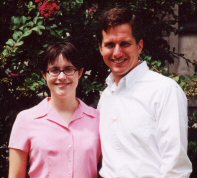 About us
Jen is currently a veterinary intern at VCA Emergency Animal Hospital in San Diego. She will be finishing her internship June 27th, 2004 (but who's counting?) and then looking for a new veterinary job, either in emergency medicine or in small animal/exotic animal medicine.
Chip is currently a hospice chaplain for LightBridge Hospice in Carlsbad.
Jen and Chip met in 1998 at the Vocare National Conference in Michigan. Through that ministry, they were able to get to know each other better and start dating. At that point, Chip was in Memphis, TN and Jen was in Davis, CA. Yes, long distance relationships can work out!
Last summer, they both moved to San Diego, where Jen was starting her internship. Since then, they've been enjoying their time in San Diego and planning their upcoming wedding.
They have 2 cats named Theo and Beau. Theo is a very handsome tabby with a white belly. Jen got Theo for her 18th birthday. Beau is quite handsome as well. He was adopted as a stray kitten. Beau's latest achievement is that he has lost 1 ½ pounds!
Some of their favorite San Diego places are: Balboa Park, Extraordinary Desserts, Kemo Sabe. They like collecting those penny souvenirs from attractions around the country. If you ask them, you can see their collection.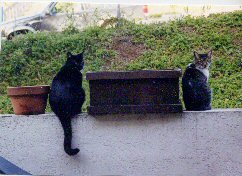 Home | Directions | Attractions | RSVP | Registry | Photos | Guest Book | LeftOvers